Rose Magee
British Berlin-based artist.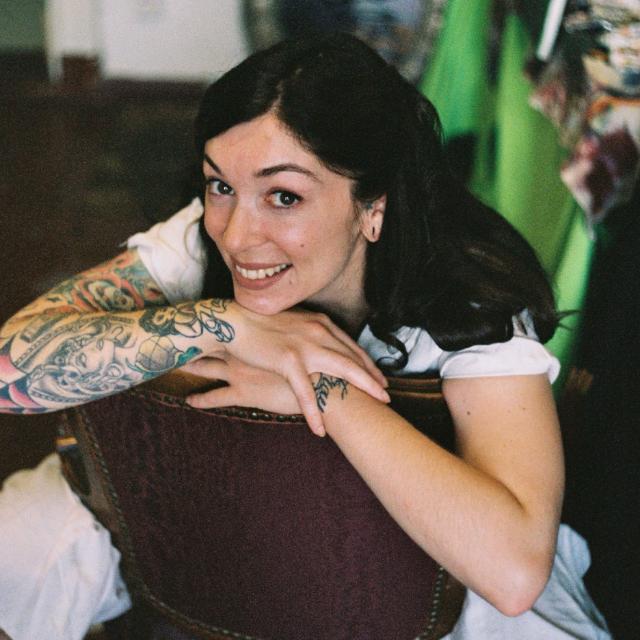 Rose, originally ‌from‌ ‌the‌ ‌UK,‌ ‌stretches‌ ‌her‌ ‌canvases‌ ‌in‌ ‌her‌ ‌studio‌ ‌in‌ ‌Berlin‌ ‌then‌ ‌using‌ ‌thinned‌ ‌oil‌ ‌paint‌ ‌she‌ ‌creates‌ ‌paintings‌ ‌with‌ ‌emphasis‌ ‌on‌ ‌bold‌ ‌colors ‌and‌ ‌stark‌ ‌contrasts.‌ ‌She‌ ‌hopes‌ ‌to‌ ‌relay‌ ‌the‌ ‌beauty‌ ‌in‌ ‌the‌ ‌mundane,‌ ‌the‌ ‌understated‌ ‌objects‌ ‌we‌ ‌encounter‌ ‌daily.‌ ‌

Her‌ ‌work‌ ‌has‌ ‌been‌ ‌shown‌ ‌in‌ ‌independent‌ ‌galleries‌ ‌in‌ ‌Malta,‌ ‌Berlin‌ ‌and‌ ‌Montenegro‌ ‌as‌ ‌well‌ ‌as‌ ‌pop‌ ‌up‌ ‌exhibitions‌ ‌in‌ ‌Bonn‌ ‌and‌ ‌London.‌ ‌Her‌ ‌creative‌ ‌education‌ ‌includes‌ ‌art‌ ‌college,‌ ‌5‌ ‌years‌ ‌training‌ ‌and‌ ‌working‌ ‌as‌ ‌a‌ ‌tattoo‌ ‌artist‌ ‌and‌ ‌most‌ ‌recently‌ ‌a‌ ‌bachelor's ‌in‌ ‌restoration.‌ ‌She‌ ‌currently‌ ‌plans‌ ‌on‌ ‌taking‌ ‌some‌ ‌time‌ ‌out‌ ‌to‌ ‌focus‌ ‌on‌ ‌improving‌ ‌her‌ ‌painting‌ ‌techniques.‌ ‌

Colours of grief, 2020, oils on canvas, 90 x 70 cm
Colours of grief (2), 2020, oils on canvas, 90 x 70 cm
Blue iris, 70 x 100cm, oil, acrylic, gold leaf on canvas 2020
Mischa's Plant, 70 x 100 cm, oil, acrylic, gold leaf on canvas 2020
"Not everyone is an artist but everyone is a fucking critic."

Marcel Duchamp