100 artworks by artists from across the world
Exhibited together in Berlin 2022
This exhibition came from a unique question: how to regularly create opportunities to showcase a large group of artists?

Traditionally, even smaller group exhibitions require a lot of effort on organizing the artworks, production and shipping of these artworks.


So, when the time came to host a collective exhibition for the members of ARTIST STOP BEING POOR in Berlin, we needed to rethink how traditional exhibitions are organized, and think of a more efficient format.

Thats how we developed this new format where we receive, produce, print and frame the artworks locally in order to host the exhibition in Berlin, allowing us to showcase a larger number of artists.
100 artworks is an art exhibition, collectivelly organized by the ARTIST STOP BEING POOR community, aiming to co-create an opportunity for artists from across the world to exhibit together and showcase their art in Berlin.

We aim to create growth opportunities for artists, empowering their careers.

All artworks are unique editions in 21×30 cm sold framed for €50 with all profits going back to the artists.
FOTOS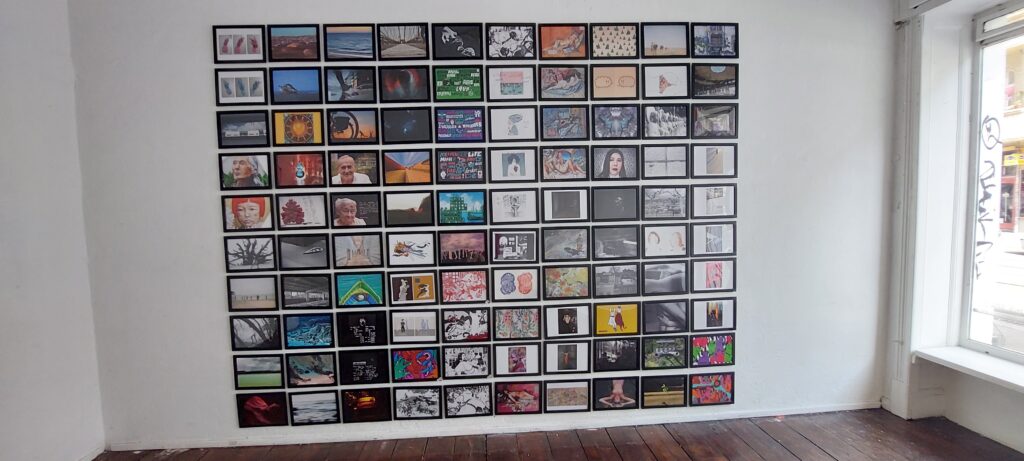 About the exhibition
Hosting an exhibition like this is not without its challenges, getting the art together and hosting the event was a lot of work, but giving these artists the opportunity to showcase their work together makes this all worth it.
GET THE
EXHIBITION
CATALOGUE
–
To commemorate the exhibition, we designed and produced the #100Artworks catalogue.

This printed catalogue features all the artworks included in the as well as contact information on all the artists.

This exhibition is a collective effort by the members of the ARTIST STOP BEING POOR community to bring greater attention to their work, without having to rely on traditional gate-keeers of the artworld.

Rather than waiting for permission, the members of the community team up to organize exhibitions like this accross the world.
WHAT IS
ARTIST STOP
BEING POOR?
–
We are a group of arists, creatives and creators, teaming up together to grow our carreers, gone are the days when artists could just reclude to our studios and wait for collectors to show up knocking on our door.

Now is the time of the artist-entrepreneur, and our collective help train this new breed of artists.

Join the collective to take part in educational programs, meetings and other activities designed to grow your career.
ARTIST STOP BEING POOR has been working and creating opportunities for its members since 2017 and our goal is to continue to create opportunities for artists to showcase their practice, sell their art and grow their careers.

Our next activities include a 6-week bootcamp to educate and empower artists, community meetups and exhibitions across Europe.

You can join our community here.