BOOTCAMP
ARTIST STOP BEING POOR
six weeks to change your art career.
Starts JAN 27
Ready to take your art career to the next level?
Let's team up, empower each other, and develop the workflow for the post-2020 artist!

If this rollercoaster of a year showed us anything is the fragility of the traditional art-business.
A lot of creatives are still managing their practice like a 16th-century renaissance painter.
The first week of the Bootcamp is all about analyzing your art career. Even if you are just starting and want to become a professional artists, or if you've been doing it for a while and want to improve your art practice.
We'll go over setting clear goals to your art career and creating a pathway to achieve them!
You'll also learn how to connect with artists from all over the world and all the activities available for members of ARTIST STOP BEING POOR.
To build a solid art career, we need to have a solid foundation to build upon. This week we'll go over how to organize the 'office' side of your art career. By far not the most glamorous side of your career, but having this taken care of, helps you better focus on creating and promoting your art.
By the end of the week you'll have prepared all the templates and databases you'll need to take over the art world.
Once you've taken care of the office side of your practice it's time to introduce yourself and your art to the world.

This is not about being spammy, it's about finding your own voice to talk about your art, communicating clearly to your audience.
This week is all about sharing your art with the world. Developing the right communications channels with your audience. Keeping them regularly informed about your art practice, upcoming exhibitions, and new artworks available for sale.

We'll also cover strategies to reach more people with your art.
Now it's time to put your art for sale. We'll analyze the existing alternatives and find the best strategies to fit your art practice. Be it using existing platforms or developing your own website and sell it yourself!
On the final week of our Bootcamp, we're gonna look into the future and how to leverage what we learned over the last six weeks into growing your art career long term by establishing new professional partnerships, art exhibitions, and relationships with galleries and curators.
Bootcamp Format
This is how the Bootcamp works, working extra hard for a short period to achieve amazing goals for your art career. Over six weeks you'll have different tasks and homework to be done, so make sure to have one hour a day to invest in your art. On a weekly basis, we catch up on a video call to answer all of your questions and get feedback from our peers.
Video Classes
Each week you'll be sent 2 video classes covering the week's topics. These classes will guide you step-by-step on the tasks required to grow your art career.
Weekly video call
A weekly get together to go over all the questions that you might have, as well as getting feedback on your task from the artist network.
Artist community
Having a community of artists around you is one of the best ways to grow your practice. Connecting with other artists allows you to share opportunities, strategies, and success stories.
Your Teacher
Stephan van Kuyk is an artist and art dealer. From very early in his career he noticed the importance of bringing new ideas into the art world. That made him start organizing his own art exhibitions, then open an art magazine, then an art gallery, then move to Berlin, exhibit hundreds of artists and sell their work worldwide.
Insightful Guests
Every week exclusive get-together with unique guests from the art world.

Valuable insight from artists, curators, art dealers, business leaders and so much more.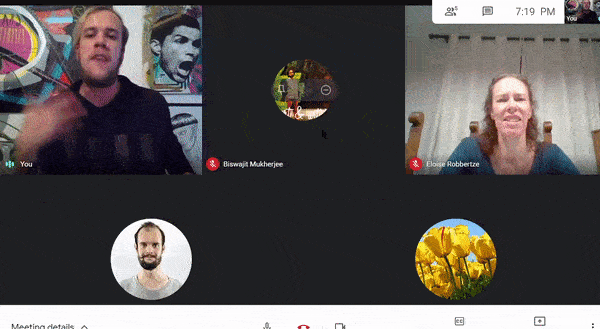 Join today!
Take part in the 6-week program developed to help you grow your art career. Get access to the video classes, extra materials, and artist network.

Participating artists can also join the ARTIST STOP BEIN POOR club, gaining access to exhibitions, opportunities, and selling their art in our gallery.
6 Weeks
10 Videos
Weekly meetings
Artist Community
Resources