ART IN TIMES OF CORONA
During these upcoming weeks, I'll be working HARDER BETTER FASTER STRONGER towards providing value to artists that are looking to grow their art career during the quarantine, being able to build an online presence and selling their art. One daily task at a time.
Is your art career in quarantine?
As health authorities (scientists) recommend us to start practicing social distancing, as an effort to 'flatten the curve', an important concept that I'll link below. I'm left wondering how will I be able to sustain, let alone grow, my art career from the comfort of my living room table.
Most of us rely on real-world events to grow our art career, we think to go to openings as a great place to meet collectors, showing in galleries as an opportunity to sell art and hosting studio visits as a chance to introduce our art to new people.
But now those things are completely off the table and I need to figure out the way of taking my art career online. Even if I've been doing a lot of my art dealing online. I need to double down now and take my art practice 100% online.
With these times of lockdown, I'm gonna develop tiny and applicable daily tasks that we, artists, can complete in order to take our career online.
To mitigate the feeling of isolation that you artists might get, I've set up a separate social media platform for artists, where we will be able to communicate, share our art and keep each other up to date with our online art careers.

It works just like Facebook, but free from all the bad news.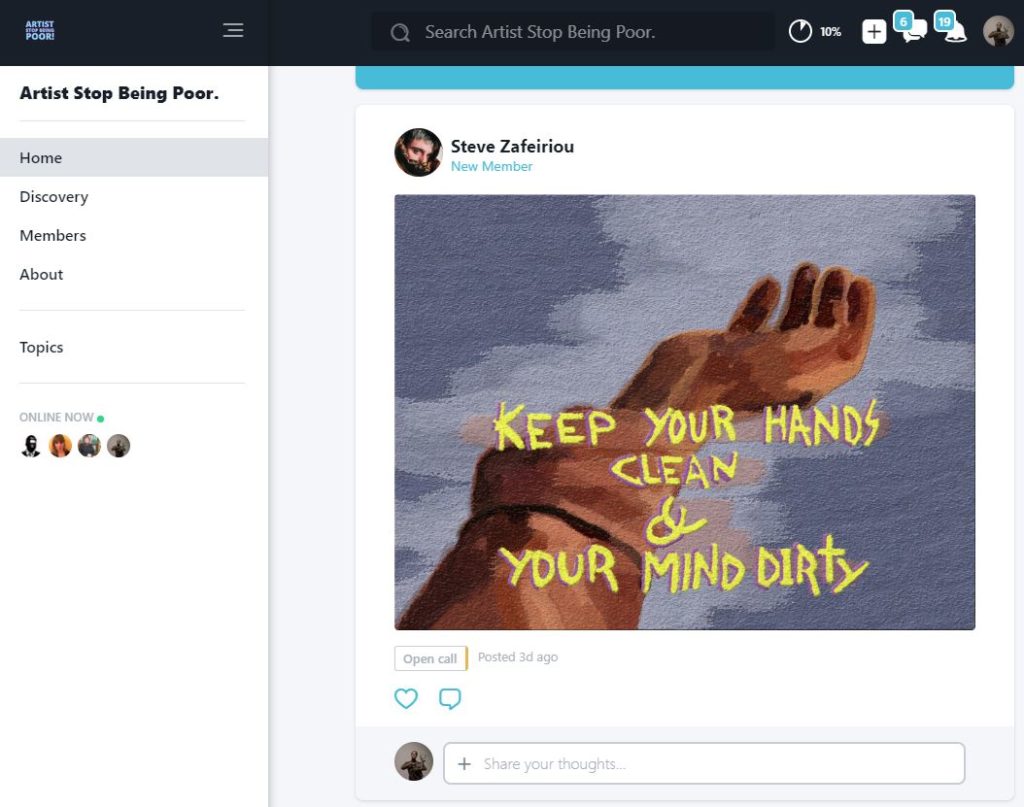 ep#1 Get off your PIJAMAS!
The task for today is very simple, get out of your god damn pijamas and put some work clothes on! While pijamas are great, cozy, warm and cuddly, they by no means transmit an "I'm ready for business!" mentality.

Changing clothes in the morning before you start working on your art career might seem like a silly thing to do, but it will help you feel ready to start off the day, it' a mindset thing, it's like telling your head, ok, we are up, we had breakfast we took a shower and now it's time for work, no more goofing around!
ep#2 Your VIDEO artist statement!
For millennia artists have used only words and images to describe their work.

Those tools have served artists well. But we need to adjust to the new times! Writing about your art is great, and still very important! But an image is worth a thousand words, right? So then a video is worth a thousand images! Quick math then shows us that one video is worth ONE MILLION WORDS! Whoa, that's amazing!